Top Hard Skills to Put on Your Resume
Hard skills are more like the professional expertise you gain by either learning in a classroom or completing on-job training. These skills vary from job to job and the successful portrayal of these skills can help greatly with your job application.
---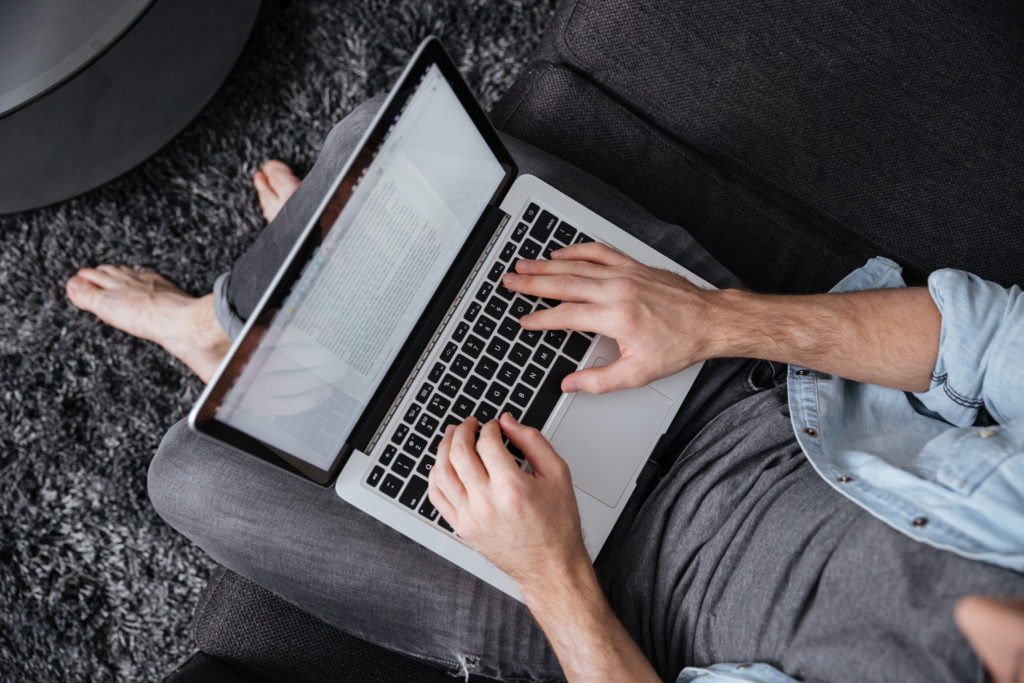 What are Hard Skills?
We are living in unprecedented times and the pandemic has made the job market more competitive than ever. With a massive influx of applicants in the job market and fewer job openings, job seekers must find their edge to stand out from the crowd. Mentioning key expertise and competencies is one of the best ways to get one step closer to a job interview. That's where hard skills come to the rescue.
Hard skills are more like the professional expertise you gain by either learning in a classroom or completing on-job training. These skills vary from job to job and the successful portrayal of these skills can help greatly with your job application. Laying out hard skills on resumes such as language, management, technical, and computer skills helps you look more relevant to open job positions. Let's talk about some hard skills you can mention in your resume to leave a good impression on the recruiters:
List of Hard Skills to Put on a Resume; Hard Skills Examples
There are different types of hard skills you can add to the resume. You may also want to add more than one type to help the potential employers know all about you as a professional. That said, ensure adding skills relevant to the job position, which stand true to your professional expertise.

1. Technical Skills:
Technical skills include expertise and specialized knowledge in the fields of science, IT, and engineering. These are the skills you have learned through training or education. As we rely so heavily on technology nowadays, almost every job sector demands certain technical skills. Here are some of the technical skills you might want to showcase on your resume:
STEM skills
CRM platforms
Prototyping
CAD
Web programming: Java, HTML, CSS
Adobe creative suite
Automated billing systems
Payment processing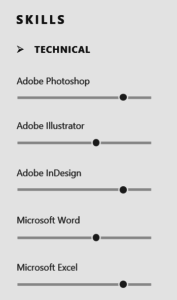 2. Computer Skills:
In today's technology-savvy world, knowing how to use a computer is a must. However, just mentioning that you have basic computer skills may not look impressive enough to the recruiters. Tell the employer how your in-depth understanding of certain computer operations helps you work efficiently. Be specific and mention skills such as:
Microsoft Office (Word/Excel/Outlook/Powerpoint, etc.)
Spreadsheets
Automated billing systems
Cloud computing
Presentation skills
Social media
Quickbooks
WPM
Enterprise systems
Database management
Graphics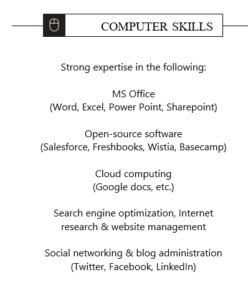 3. Analytical Skills:
Today, analyzing data accurately and appropriately is more important than ever before. Recruiters need applicants who have an educational background or professional experience in gathering and analyzing data to come up with result-oriented strategies. They want candidates who can help them save time and money, develop their quarterly/yearly plans, eliminate waste, and boost productivity. Some of the skills that fall under analytical skills are:
Data mining
Data presentation
Database management
Data engineering
Web analytics
Research
Data visualization
Diagnostics
4. Marketing Skills:
Marketing skills tell the recruiter about your expertise in search engine optimization, brand building, consumer research, lead generation, marketing campaigns, social media marketing, and digital marketing to support modern-day marketing needs. Marketing plays a huge role in bringing business to organizations, hence marketing positions are always given preference by employers. That said, mentioning relevant skills can help you grab the recruiter's immediate attention. Some of the marketing skills that you can highlight in your resume are:
SEO (Search Engine Optimization)
SEM (Search Engine Marketing)
PPC (Pay Per Click)
SMM (Social Media Marketing)
Data Visualization
Google Ads, Bing Ads
Paid Social Media Advertising
Google Analytics
Content Management System
Marketing Research
Affiliate Marketing
Email Marketing
Marketing Automation
5. Accounting Skills:
There are different accounting applications and software that help companies manage their financial needs. These automated accounting platforms help businesses escape manual errors. From job roles such as accounts payable or accounts receivable to financial heads, mentioning accounting skills can be a great help for different professionals working at different levels. Here are some accounting skills that can be mentioned on a resume:
Financial statement preparation
Microsoft excel
Data analysis
QuickBooks or similar accounting software
Auditing
Microsoft visual basic
Hyperion
6. Design Skills:
If you are a professional designer or seeking a career in designing, acquiring certain hard skills is imperative. Align these skills with the evolving technologies and industry needs. Continuously learning new skills and updating them on your resume can help accelerate your job search. Some of the design skills that you may mention on the resume are:
Dreamweaver
Adobe creative suite
Photoshop
Photo editing
HTML
CSS
UX design
Illustrator
Print design
Corel draw
Video production
Typography
7. Writing Skills:
You do not have to be a writer to mention "writing skills" in your resume. You can be working as a sales or customer service representative and still mention writing as a skill in your resume. Almost every job role involves writing. It might be about writing an email, creating a proposal, or sending audit reports. It is always better to put together your thoughts in writing without making grammatical mistakes. Some of the writing skills that you can mention on your resume are:
Proposal writing
Technical writing
Press releases
SEO Writing
Editing
Social media
Transcription
Translation
Reporting
Copywriting
Scripting
8. Management Skills:
It's good to have people skills, but that's not the only thing that helps recruiters identify you as a manager. If you have the skills to manage people and work as a leader, you might consider mentioning some of the following skills on the resume:
Project management
Business intelligence
Logistics
Negotiation
Business development
Hiring
Budgeting
Planning
Finance
Office management skills
Scrum management
9. Language Skills:
Knowing more than one language can help your resume stand out from the competition, especially when you are applying for a job role that requires communicating with international stakeholders. While mentioning different languages, you can always mention the proficiency levels alongside.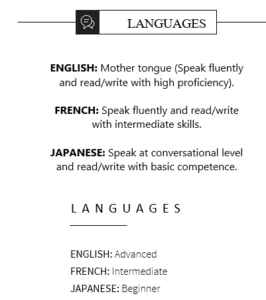 10. Project Management Skills:
Project management skills tell the recruiters that you can get things done in time. This talks about the expertise in specific software and frameworks that helps in delivering the project in or before the stipulated deadline, and within the decided budget. Some of the project management skills are:
Strategic planning
Agile software
Financial modeling
Forecasting
Budget management
Performance tracking
Scrum management
Product lifecycle management
Understanding Keywords
By mentioning hard skills, you ensure you are building an ATS-friendly resume. ATS, also called Applicant Tracking System, helps recruiters cherry-pick the candidates who resonate the most with the open job positions. The software analyzes keywords used in a resume and matches them with the needs of the posted job description. It takes some burden off the recruiters and provides them with the most suitable applications faster. For instance, a designer's resume highlighting "HTML" under the skills section is more likely to get picked over a resume with no relevant keyword in it.
Difference Between Soft and Hard Skills
Hard skills refer to the knowledge and specialized expertise that you acquire to perform certain job functions and duties. On the other hand, soft skills describe more your personal qualities. Hard skills help your resume look strong and more specific to the job requirements. Whereas, soft skills ensure your potential employer knows more about you at a personal level.
Hard skills include technical, language, career-specific, and computer skills.

Soft skills include problem-solving, communication, organizational, and teamwork skills.
Whether you are building your resume from scratch or updating it after a long time, adding skills can be a daunting task. You must evaluate the requirements of the open job position and the skills you have before mentioning anything on the resume. Every job role demands different skills and the ever-evolving technology keeps on updating these requirements. You must keep an eye on trends to mention the most relevant skills. If you are applying as a recent graduate, you may mention the skills you've acquired by learning in a classroom or through training and certifications.
Next Post
LinkedIn Profile Optimization
How to Write a Professional LinkedIn Headline for Your Profile
What are Hard Skills? List of Hard Skills to Put on a Resume Technical skills...