Resume Keyword Examples for Your Job Search
Resume keywords highlight the skills and expertise a candidate requires to get hired for an open job position. Thoughtful placement of job-relevant keywords can help you stand out from the competition and grab the immediate attention of the recruiters.
---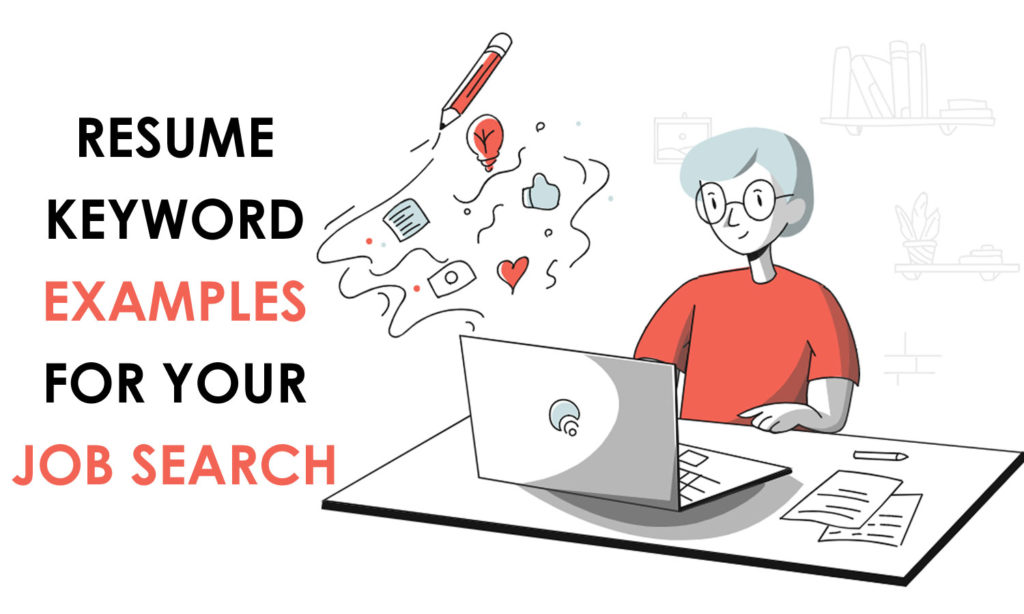 Introduction to Resume Keywords
Resume keywords highlight the skills and expertise a candidate requires to get hired for an open job position. Thoughtful placement of job-relevant keywords can help you stand out from the competition and grab the immediate attention of the recruiters. Recruiters, while scanning dozens of resumes stacked on their desks, give preference to resumes with appropriate keywords. From soft and hard skills to a professional resume summary, recruiters look for job-related keywords to choose suitable candidates.
Did you know Applicant Tracking Systems (ATS) cut approximately 70 percent of resumes that don't match the required criteria? Companies that receive numerous resumes every day cannot rely on human efforts to go through each job application thoroughly. Hence, most companies today have an ATS in place. It helps them pick the best-suited candidates by looking at the keywords relevant to the posted job description. Based on the requirements of the open job role, an ATS decides if the recruiter should see an application or not. Hence, building an ATS-friendly resume is very important to move ahead with your candidature. Adding job-relevant keywords can help you achieve the very goal.
Go through the job description and requirements carefully and pick the keywords that stand out as well as match your skills and expertise. Mention those keywords in your resume to accelerate your job search. Here are some examples of the industry-specific keywords that you can use in your resume:
Industry-Specific Resume Keywords Examples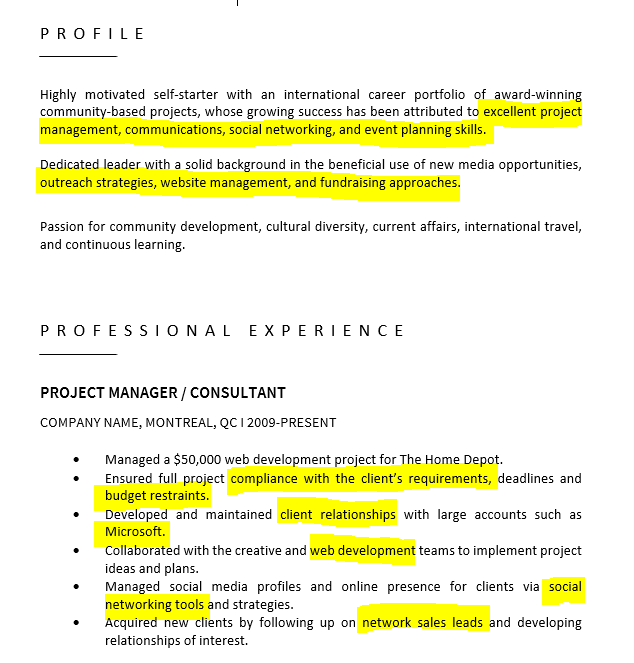 Accounting and Finance Resume Keyword Examples
Accounts and finance-related jobs such as Accounts Receivable, Accountants, Auditors, Accounts Payable, Portfolio Manager, Financial Manager, and Strategic Account Manager demand the professionals analyze the ongoing market trends and help clients with profitable financial advice. Some of the job-related keywords they can use in their resume are:
Credit
Accounts Payable
Accounts Receivable
Financial Analysis
Cost/Benefit Analysis
Operating Budgets
Spreadsheet
Stock
Treasury
Investment
International Financing
Debt Financing
Budgeting
Risk Analysis
Quantitative Analysis
Qualitative Analysis
Auditing
Forensic Accounting
Account Management
E-Trade
FILO
Foreign Exchange
Investor Relations
Equity
Shareholder
Portfolio
Corporate Tax
Commercial Banking
Letters of Credit
Education and Learning Resume Keyword Examples
The education and learning industry includes professions such as teaching, educational consulting, tutoring, academic advising, and counseling. These professions need strong educational background along with influential subject matter expertise. You must be creative to teach students and demonstrate strong communication skills to build careers and provide guidance. Some of the industry-specific keywords you may use in your resume are:
Administration
Advisor
Counseling
Academic Advising
Coach
Classroom
Curriculum
Instructions
Holistic Learning
Grant
Peer Counseling
Scholastic
Student Services
Teaching
Technology
Personalized Education
Special Education Needs/SEN
Recruitment
Career Counseling
Tutoring
Training
Learning and Development
Mentor
Course and Curriculum
Online Education
Modern Learning
Literacy
Engineering and Science Resume Keywords Examples
Careers in engineering and science demand analytical expertise and problem-solving skills to develop solutions. Professionals may work towards building new mechanical tools or doing research to find cures for diseases. This is a diverse field requiring professionals to have a strong educational background and work experience. Some of the job roles related to engineering and science are scientists, mechanical engineers, IT engineers, pharmacists, biomedical engineers, mathematicians, among others. Some of the industry-specific keywords you may use in your resume are:
Analysis
3D Modeling
Industrial Engineering
Aerospace engineering
Manufacturing
Qualitative Analysis
Research and Development
Technical Writing
Product Research
Prototype
Surveys
Field Performance
Experimental Designing
Environmental Testing
Documentation
Product Implementation
Quantitative Analysis
Biotechnology
Quality Assurance
Re-engineering
R&D
Development Cycle
Computer-Aided Engineering
CAD
Compliance
Hospitality Industry Resume Keyword Examples
The hospitality industry includes different businesses and services with a primary focus on customer satisfaction and leisure. It focuses on lodging, food and beverage services, event planning, and transportation. It generally includes hotels, restaurants, party halls, and bars. Some of the professions related to the hospitality industry are chef, hotel manager, bartender, waiting staff, concierge, tour guide, housekeeping staff, barista, wedding planner, valet, butler, and night auditor. Some of the industry-related keywords you may use in your resume are:
Bartending
Attention to Details
Beverages
Calculation
Front Desk
Guest
Health
Multitasking
Reservations
Registrations
People Skills
Scheduling
Team Player
Vendor Sourcing
Food Preparation
Cash Handling
Customer Satisfaction
Customer Service
Detail-oriented
Inventory
Safety
Tour Guide
Communication Skills
Club Management
Hotel Management
Waiting Tables
Catering
Event Planning
Cooking
Meal Preparation
Food Safety
Emergency and Disaster Management Resume Keyword Examples
Emergency and disaster management involve professionals who can quickly work towards mitigating the damage and finding a solution to the problem at hand. The professionals must know how to work under pressure and provide best-fit solutions to help everyone get out of complex situations. Emergency and disaster management professionals are in high demand, especially looking at the ongoing crisis and environmental issues. The professionals provide help in crises such as natural hazards, public health emergencies, security threats, and other public safety concerns. Some of the professions that come under emergency and disaster management are homeland security officers, disaster risk specialists, security analysts, crisis communication specialists, and response and recovery officers. You may use the below industry-specific keywords in your resume to get an edge over others:
First Aid
Fire Safety
Self-defense
Surveillance
De-escalation
Community Policing
Equipment Maintenance
Emergency Response
Problem-solving Skills
HSEEP
Document Development
Public Administration
Safety
Survival Supply Program
Resiliency
Emergency Action Plans
SERT
Creative Thinking
Multi-tasking Skills
Sales and Marketing Resume Keyword Examples
Sales and marketing professionals help businesses build strong professional relationships, generate leads, and enhance customer experience. They are responsible for helping organizations meet their growth objectives and annual/quarterly sales targets. From lead generation to upselling the products, careers in sales and marketing require professionals to progressively work towards maximizing sales revenue. Some of the professions that come under this category are marketing managers, sales representatives, sales account managers, retail support analysts, marketing project advisors, marketing communication managers, digital marketing managers, and regional sales managers. Some of the industry-specific keywords you may use in your resume are:
Brand Management
B2B
B2C
Marketing Communications
Regional Sales
Creative Design
Content Marketing
Revenue
Lead Generation
Sales Pipeline
Social Media
Technology
Email Campaigns
Trade Shows
Event Planning
Trend Analysis
Google AdWords
Customer Satisfaction
Upsell
Customer Retention
Supply Chain
Target Audience
Sales Forecast
Regional Sales
Market Share
Direct Sales
Marketing Automation
Competitive Analysis
Market Positioning
Revenue Streams
Law Enforcement Resume Keyword Examples
Law enforcement is a challenging yet highly rewarding industry. They are responsible for law enforcement and have the authority to carry firearms and make arrests. The general duties and responsibilities include regular patrolling, maintaining records, testifying in courts, investigating burglars, providing first aid to victims, writing reports, and maintaining security. Some of the professions that come under law enforcement are local police officers, state troopers, patrol agents, special jurisdiction police officers, detectives, investigators, firearm examiners, correctional officers, and protective service workers. You may use the following keywords to accelerate your job search in law enforcement:
Antiterrorism
Armed Security
Asset Protection
Crisis Management
First Aid
First Responders
Identity Theft
Interrogation
Investigation
Safety Training
Surveillance
Traffic Enforcement
Patrolling
Security
Arrest Record
Crime Prevention
Emergency Preparedness
Fraud
Crisis Communication
Logistics and Supply Chain Resume Keyword Examples
Logistics and supply chain professionals are required to demonstrate expertise in simplifying things and categorizing them in one or the other way. Depending on the job roles and duties, there are different professions in the logistics and supply chain industry such as supply chain planner, production planner, logistics resource planner, capacity planner, and load planner. Some of the industry-specific keywords you can use in your resume include:
Acquisition
Fleet Management
Forecasting
Loading/Unloading
Warehouse
Vendor Management
Outsourcing
Inventory Planning
Offshore Purchasing
Subcontractor
Supplier
Procurement
Asset Management
Capital Acquisition
Fixed Price
Deadstock
Customs
Compliance
International Trade
Just-in-time
Transportation
Building an ideal resume can be a daunting task. However, a step-by-step
resume writing guide
can help you achieve the goal. It helps you suitably highlight your
soft skills
,
hard skills
, accomplishments, key milestones,
professional summary
, expertise, and job-related keywords to strengthen your application. Leverage the above-mentioned industry-specific keywords to increase your chances of landing a job interview.
Next Post
Resume Guide
Free Resume Examples by Industry – Download and Get Hired in 2021
Introduction to Resume Keywords Resume keywords highlight the skills and expertise a...