Career Profiles: Aerospace Engineers
Their Role as a Career of the Future
---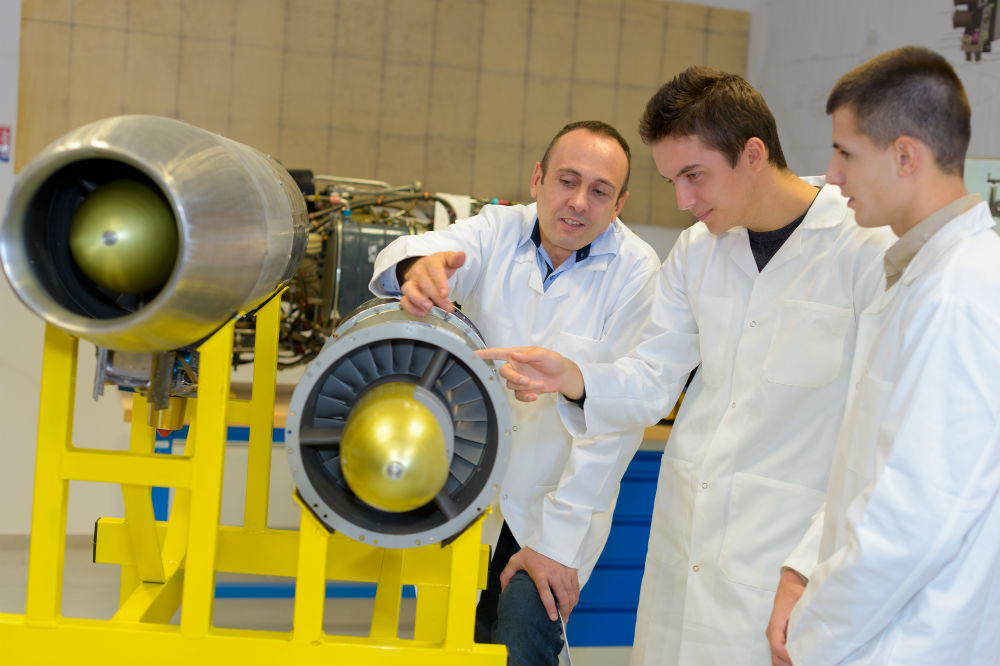 Air travel is a very large part of the transportation industry. On average, 15,800,000 flights are managed yearly, according to the FAA. Regardless if it's for business or pleasure, planes are required for travel through the air.
As an aerospace engineer, you have an incredibly important job. These professionals are responsible for drafting proposals for upgrading existing aircraft. Along with the creative side of planning, you will also need to take regulations into account.
This career of the future is set to grow as technology makes it more convenient for people to travel to the other side of the world within a matter of hours, at most.
What Do Aerospace Engineers Do?
A career as an engineer who specializes in aerospace is a beautiful combination of creativity and analytical knowledge. If you're someone who has always had a passion for planning and design, this could be a fantastic option. Additionally, it has a lot to do with research and testing.
Depending on where you work, you will either have independent tasks or work with a team. Alone or together, you will be required to draft soft and hard specifications for spacecraft or aircraft. You will then need to input your work into designing software such as CAD or CAM.
Once your design has been digitized, tests will need to be conducted. These tests will gauge the sufficiency and efficiency of your design to maintain the safety of the aircraft or spacecraft. Each part will be meticulously analyzed to ensure that it does not compromise the integrity of the flight.
It's also incredibly important to take regulations under advisement. In your designs, you will have to abide by many state and federal laws. You will also need to make sure that each part of the craft passes industry standards and regulations.
It's quite common for aircraft engineers to have a large part in the manufacturing process as well. You may be required to oversee the creation of components that you (or another engineer) have designed. Many engineers are required to supervise the installation of parts to ensure different modes of transportation are built to standard.
Where Is an Aerospace Engineer's Place of Work?
As you can tell, as a professional in this field, you need to be a jack-of-all-trades. From designing schematics from scratch to managing the implementation of parts, you will have plenty of responsibilities. With that said, there are a variety of places where you will work.
Some aircraft engineers will work inside of a design office, similar to an architect's office. This is where you will work on your schematics and designs either on your own or with a team. You may also be required to hold presentations to explain your designs thoroughly and how they are said to improve air and space travel.
Other engineers will find comfort in a more industrial environment, such as a manufacturing facility. If you have an interest in a more hands-on career, you'll have the ability to manage the construction of planes, rockets, rotorcraft, and spacecraft. You will still have an office, but you're likely to spend most of your time on the manufacturing floor.
Plenty of engineers travel often. These professionals will visit different offices around the country and pitch their innovative and intuitive designs. Your main task will be to sell your designs to aircraft manufacturers.
What Are the Recommended Skills for Aerospace Engineers?
The importance of engineers who specialize in aerospace is more than what most realize. Their passion, creativity, experience, and knowledge are what propels travel into the future. This means that you will require an abundance of skills, including:
Charisma: As someone responsible for pitching designs and new inventions for flight, you'll need a lot of charisma and sales skills. It can be difficult to encourage other people to believe in your project as much as you do. You'll find yourself in boardrooms with world-renowned industry professionals.
In-depth Knowledge: There's much more to your career than designing your own projects. Many times, an aerospace engineer is tasked with improving existing ideas. You will surely need an in-depth knowledge of your field to be able to make existing parts better and more efficient.
Investigative Thinking: Nothing is ever perfect, especially when it comes to aircraft. If a plane or spacecraft is brought to your facility with an unknown issue, you will have to diagnose and repair the said problem. This requires an investigative mind that knows the ins and outs of the equipment you're responsible for.
Knowledge of Rules and Regulations: Every aviation component needs to meet specific standards. Knowing and understanding these rules and regulations is what will enable you to do your job. Without this crucial information, you'll be unable to repair, modify, or create parts that can be added to aircraft.
Analytical Skills: During testing phases, there are several things to analyze. You will need to monitor stall speeds, takeoff distances, maneuverability, landing capabilities, the rate of climb, and more. With your analytical skills, you can create reports and charts to explain the degradation of a particular machine and how it can be improved.
Interpersonal Skills: You'll find that the majority of aerospace professionals work with a team. As such, you'll need to be able to communicate effectively and feel comfortable operating with a team. You may also find that leadership skills are a great asset to have.
What Is the Expected Job Growth for Aerospace Engineers?
In 2018, the demand for engineers that specialize in aerospace grew by 4.05%, and in 10 years, professionals in this field will experience job growth of 40.5%. As mentioned, this is a career of the future because air and space travel isn't set to become less popular any time soon.
As humans become more explorative and search for more convenient ways to get from one place to another, your career field will only become more desirable. This is especially true as we delve into a new age of space travel and visiting foreign planets. It's also important to note that existing aviation equipment will deteriorate over time, which means there will always be room for repairs and modifications.
The Top Employers for Aerospace Engineers
In every industry, there are elite companies that professionals seek out. In the aerospace engineering industry, the top three employers include:
The Boeing Company: If you've read the news recently, you've likely heard of Boeing before. They are the largest aerospace company, and they have many different products on the market ranging from jets to commercial planes. Boeing is also responsible for designing launch systems, satellites, and missile defense systems.
Airbus Group: Ideal for people looking for a career in the military sector, Airbus focuses primarily on military airspace and commercial aerospace. They're also the most significant rival of Boeing. Their specialties include radar development, missile systems, militant and civilian helicopters, and unmanned aerial systems.
Lockheed Martin Corporation: Lockheed Martin is one of the most recognizable names for aircraft engineers. They focus primarily on their defense contracts, though they also have a large part of the civilian air and space market. The majority of their projects are for the Department of Defense for the United States of America, focusing on space systems, missile defense, and air defense.
Final Thoughts
Finding a job as an aerospace engineer, you'll be selecting a career that is set to skyrocket in popularity over the years. There's never been a more important time than now to improve the quality, safety, and reliability of air and space vehicles. With transportation being one of the largest industries in the world, it's a stable and reliable field to choose.
Next Post
Career Profiles
Career Profiles: Personal Financial Advisor
Air travel is a very large part of the transportation industry. On average,...