How to Upload a Resume to LinkedIn
---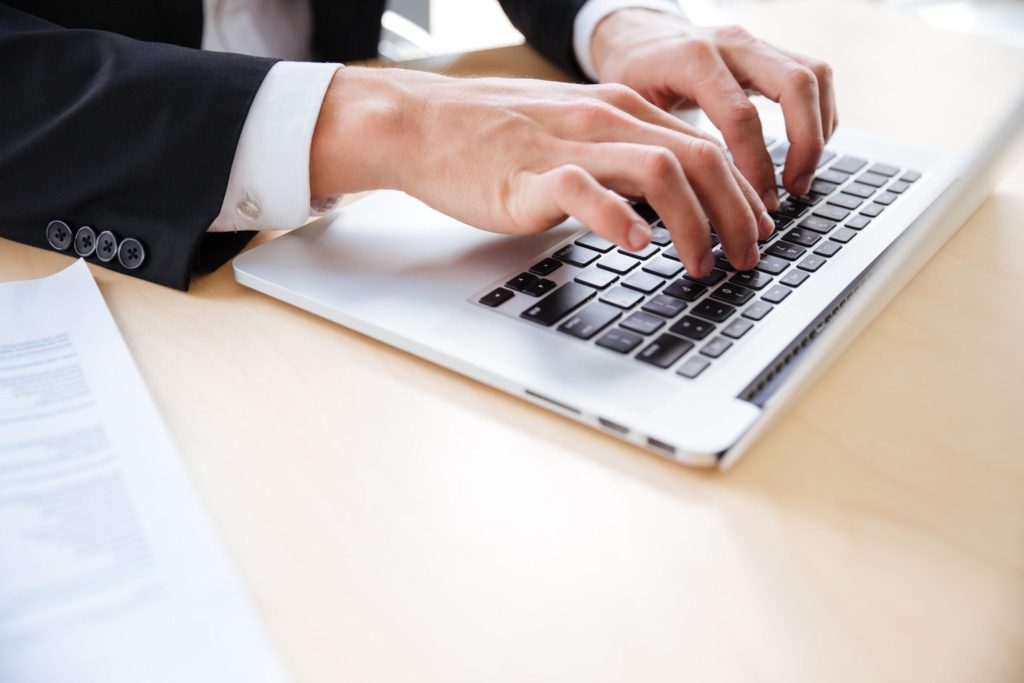 LinkedIn is one of the biggest online networking platforms for professionals and job seekers. Given the size of the applicant pool, recruiters are increasingly leveraging the platform to find their ideal candidates. The advanced filter options help the recruiters narrow down the best candidates for the open role. On the other hand, easy job navigation and continuous job postings by recruiters around the world have turned job seekers more towards LinkedIn to accelerate their job search.
Did you know that around 40 million people actively search for jobs on LinkedIn every week and around 3 people are hired per minute through the platform? Your LinkedIn profile gives recruiters an idea of who you are as a professional. It helps them know about your past work experience, area of expertise, skills, and educational background, among others. That said, many recruiters prefer going through your resume along with your LinkedIn profile. They want to look at a more detailed professional summary of your work history and expertise. It is best to provide potential employers with both to increase your chances of landing a job interview.
If you are wondering how, then follow these easy ways to upload your resume to LinkedIn:
1. Feature Your Resume on Your LinkedIn Profile:
LinkedIn allows you to upload blog posts, articles, pictures, videos, and links to your work samples. It helps in showcasing your work, skills, and puts some light on your professional accomplishments. You can also use this feature to upload your resume. Here's how you can do that in a few easy steps:
Go to your profile and scroll down to find the "Featured" section.
Click on the '+' sign on the right side.
Click on the "Media" section, where you can upload photos, documents, and presentations.
It will take you to the computer library to pick up the desired file. Upload a PDF or a .doc file type from the popup menu.
Add the resume file along with a short description. You can also add the resume summary in the description section.
Click save and you will be able to see the resume in your featured post section in your profile.
Tip: Try to save your resume with your name and the industry/job position you are applying for. It will help the recruiters easily identify your application from the database. For example, Jon Smith.DigitalMarketer.doc or Janice Aldrin.ContentEditor.doc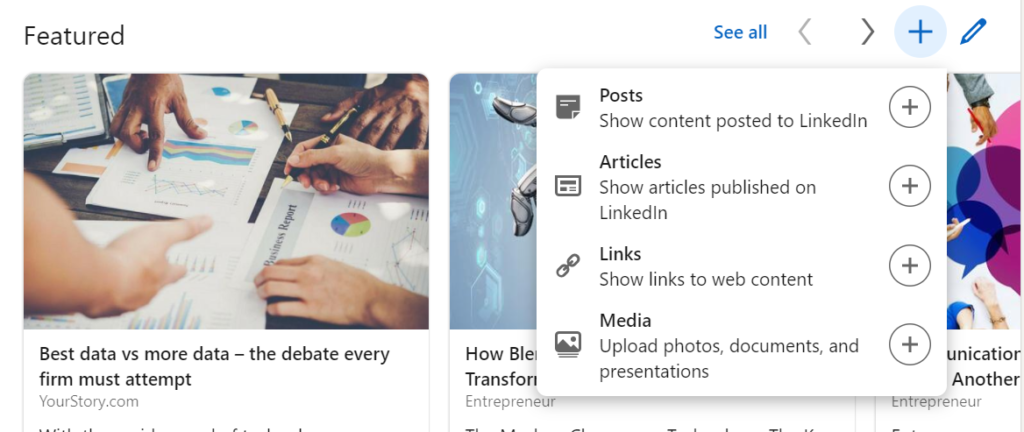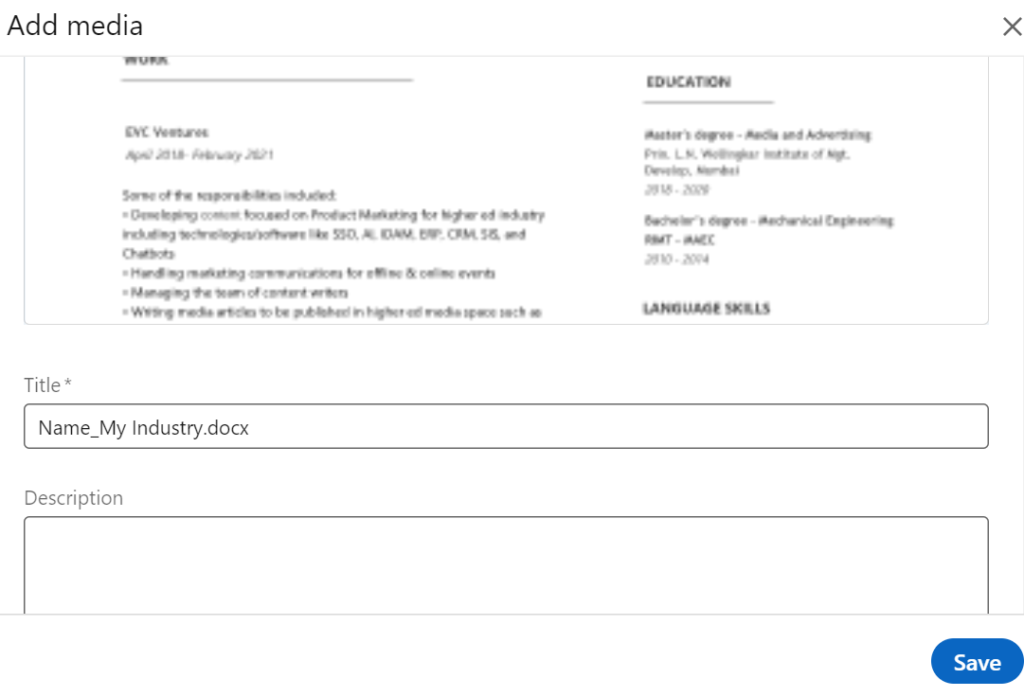 2. Add Your Resume for Easy Apply Job Applications:
If you do not want your resume to be featured publicly in your profile, make the most of LinkedIn's "Easy Apply" section. LinkedIn's "Easy Apply" section allows you to quickly apply to different jobs with customized resumes that include job-relevant keywords. You can upload multiple resumes to suit different job profiles and roles, and it won't be shown publicly on your profile. Here's how you can easily upload your resume in Linkedin's "Easy Apply" section.
Search for the "Jobs" tab on the navigation bar.
Find an open job position you would like to apply for and notice "Easy Apply" written on
it.
While applying for the job, you'll be asked to upload a resume. Upload the resume that resonates with the job role.
Once done, you'll be able to see the saved resume along with the date of upload. You can upload up to five resumes and apply as per job requirements.
3. Share Your Resume as a LinkedIn Post:
Uploading your resume as a LinkedIn post is a good way to tell your connections that you are open to work and looking forward to new opportunities. It is also a great opportunity to get referred by your connections. Here's how you can share your resume as a LinkedIn post:
Click on the "Start a Post" bar on your feed/home page.
A popup will appear with a message box and privacy option to decide the visibility of the post. You'll also find a "+" sign to add a picture, document, or video below the message box.
Click on the document symbol and you will be asked to upload a file. Upload your resume with the correct name format (Name.JobRole) and hit the done button. The viewers will be able to download the file as a PDF.
Once you hit done, it will be visible on LinkedIn as per your chosen sharing settings. It can be shared with anyone on LinkedIn, as well as on Twitter, or just your connections, and members of the chosen group you are a part of.
Use Your LinkedIn Profile as a Resume
You can also choose to use your LinkedIn profile as a resume for the recruiters. Your LinkedIn profile has all the information and sections required to build a resume: a professional summary statement, work experience, educational background, skills, recommendations by other professionals, certifications, and training among others. If you are only using LinkedIn for job searches, then you might prefer to build a great LinkedIn profile and mention all the important information in it.
Should You Upload Your Resume on LinkedIn?
Before you upload your resume on LinkedIn, think about the impact you may have on your job search and privacy. Uploading your resume on LinkedIn will publicly display all the information on the resume, including your contact information. It will disclose your phone number, email address, and even your mail address. You may not like sharing that with everyone.
Your resume should be job-specific, tweaked carefully to meet the needs of the open job role. However, if you upload your resume on LinkedIn publicly, you don't get to tailor your resume. Uploading your resume on LinkedIn may also let your current employer know that you are looking for new opportunities. It may impact your relationship with your employer negatively. So you might want to keep it private.
If you are concerned about your safety but still want to upload a resume on LinkedIn, you may upload a different version of your resume without your contact details on it.
On the other hand, uploading a resume under the "easy apply" section is another great way to keep your resume saved on LinkedIn, and simultaneously get suggestions for the relevant job positions. It keeps the resume private and you can easily share it with the chosen employers within a few clicks.
Resume vs. LinkedIn Profile
While a LinkedIn profile and a resume might share some similarities, they stand different in many aspects. A LinkedIn profile is a casual way of describing your past work experience, education, and skills, among others. On the other hand, a resume is more targeted towards the job you are applying for, customized per the role, and provides a detailed professional overview of your work experience, skills, expertise, and educational background. Since both are different in some aspects, it is always better to provide the recruiters with your complete professional information. Uploading your resume to LinkedIn is a great way to do the same.
The job market is getting more competitive than ever. As a job seeker, it has become imperative to stand out from the crowd to gain the recruiter's attention. That said, LinkedIn is a great professional platform to connect with your potential employers. Uploading your resume on LinkedIn can increase your chances of landing a job interview.
Next Post
Resume Guide
How to Write a Resume Summary Statement
LinkedIn is one of the biggest online networking platforms for professionals and job...